Post by jjohnson on Feb 20, 2021 18:11:13 GMT
Chapter 62: Gaming and Culture in the EightiesComputers
In the Confederate States, computers were becoming more affordable and more popular. Atlanta was becoming a popular place for high-technology companies, and there were rumors of the capital moving from Milledgeville for much of the 1980s. It became a friendly rivalry between Phoenix, AZ and Atlanta, GA, with Nashville, TN remaining an electric and innovation area that cooperated with nearby Atlanta to allow it to become dominant, while Tandy was King in Texas and its surrounding states. The struggling Atari moved to Atlanta to try to save itself after the slump of 1983. Through the 1980s the text-based interface gave way to graphical interfaces with mice to interact with the screens.
The American Apple Inc. computer company released the MacIntosh computer in 1984, the first to be released without a programming language, but rather a graphical user interface, mouse, and keyboard.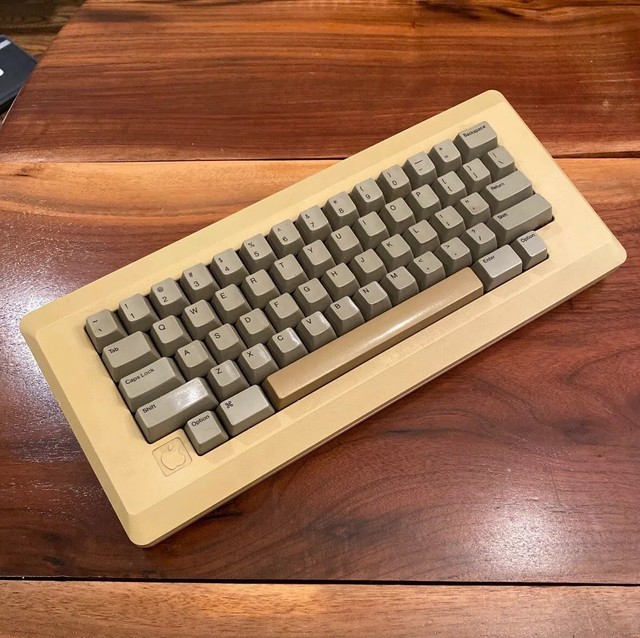 Despite being black and white, while even computers like the TRS-80 were in limited color, it sold well enough for its high price tag of $2495, with 128K RAM, a 7.8 MHz Motorola processor, and a 400KB 3.5" floppy drive. Despite its high clock rate, it lost about 35% of its processing speed due to the way it handled RAM access. It had a 512x342 pixel, 1-bit 9" CRT unit built in and a disk drive. It came bundled with a number of proprietary software programs, including the Atlanta-based Microsoft's Word program, over MicroCom's Scribe software, but after about 6 months, Apple bundled Scribe with the computer for sale in the US and Canada, while keeping Word for release in the CSA, the United Kingdom, and the rest of the British Commonwealth and German Confederation. User upgrades were intentionally made difficult to try to push people to buy a Macintosh 512 (for the 512KB RAM), but engineers put in backdoor ways without Steve Jobs's knowledge to allow upgrades.
The same year, 1984, the American IBM company released the Personal Computer / AT. It had the Intel 80286 chip at 6MHz and 8 MHz, a 5.25" 1.2MB floppy drive, RAM from 256KB up to 16MB, and like the Macintosh, had an optional 20MB hard disk drive. Unfortunately, its price was $4000 to $6000 was prohibitive, but its compatibility with MC-DOS and MS-DOS was a huge plus, allowing businesses to choose the operating system they wanted, and the programs they wanted as well. Unlike the Apple computer, it had two buttons on its mouse, allowing for more user options when using graphical programs, creating more user-friendly experiences later on.
PC/AT, PC/AT 84-key keyboard, and its follow-up 101-key keyboard
The PC/AT would be supplanted by the PS/2 in 1987, which would change the 84-key keyboard for the now standard 101-key keyboard, with arrow keys, a number pad, and function keys, all of which were left off the Apple Macintosh intentionally to push people to write programs for the graphical interface. It had a CGA graphics system to start, with a set number of palettes, and resolutions from 160x100, 320x200 and 640x200 for graphics, and 80x25 character mode. The advantage over the Macintosh was in using off-the-shelf components, which made upgrades and customization much easier, and allowed businesses much more control over their computers than buying Apple did.
While the IBM came into businesses, Tandy, the Confederate computer company based in the IBM, and compatible with all the same software, but at $1200 (US), $435.99 (CS)
The Tandy 1000 was released in November of 1984, with a better keyboard, better system, and a better price, with MS-DOS as its text-based OS in many countries, with MC-DOS in the US and Canada. A slew of other manufacturers like Compaq, HP, Atari, Acorn, Amiga, and Commodore, all created PC-compatible clones, using a version of DOS to allow compatibility, so that people using PCs at work could use the same kind of software at home, for a much lower price.
A huge push for PC compatibility came from the Atari company, based in Atlanta, a second Nashville for technology in the Confederacy. In 1985, it released the Atari ST, a 16/32 computer, so-called for its 16-bit bus and 32-bit processor core. It had from 256KB to 4MB of RAM, a 286 processor, as opposed to the original Motorola (they switched when they decided to opt for using MS-DOS rather than their own custom OS), and a monochrome ($799 US) or color ($999 US) monitor ($289.49/$361.95 CS). While Microsoft wanted to get their Windows 1.0 on the computer as a graphical UI for one of their favorite companies, their delivery date was estimated at 2 years away, so Atari used its own proprietary graphical UI, Atari TOS, which it continued to update until it was made freeware in 2004. Once Windows became popular across the CS, most Atari computers became loaded with that over TOS, but TOS retains a devoted following to this day. Once it became freeware, and Alex King, the primary programmer, became aware of a number of security issues while living in the US, began rewriting the kernel of TOS into one of the most secure OSs in the world.
Atari Computer worked with the video game unit, as the CEO, James Taggert, believed that the two sides had to support each other, and create synergy between them, which meant compatibility. Each Atari computer accepted ROM cartridges, and the Atari 7800 accepted game ROM cartridges from the ST line, while the ST line also played 7800 cartridges flawlessly, while the 8-bit line of computers, such as the 130 XE, would also accept the ROM cartridges for games, the 7800 itself being a repackaged 800XE in a cheaper body, and designed to be easy to write programs for, which the ST allowed with easily available game programming software.
As an 8-bit computer, this was only available with Atari TOS, but did have 640x200 CGA graphics, and a special 320x240 mode with 256 colors and 25 on screen at once, only really pushed with ROM cartridges, which were packaged in either XE boxes or Atari 7800 boxes, though both carts worked in either system. The cooperation between the gaming and computer divisions got Atari through the 1980s, as did the steady leadership of Mr. Taggert.
Internet
Early dail-up modems made communication between computers a public reality by the early 1980s in both the US and CS. In the US, Compuserve, out of Ohio, came around in 1979 as an ISP for the public, having been founded in 1969 during the mainframe era to help a life insurance company use time-sharing host systems. Soon it began offering chat, message boards, software programs, online games, and introduced the GIF image format. It got widespread use for e-mail and internet access in 1989, and crossed the border into Dixie and Canada, mostly in Kentucky, Tennessee, Virginia, and Arkansas.
Compuserve's early interface
Compuserve's rates fell from over $10/hr to $1.95/hr (US) before eventually going to a $8.95/month unlimited-style plan for its basic services, while still offering premium features for a cost. Compuserve's userbase peaked at about 3 million before AOL and DN took over. In 1993, Compuserve was sued in Kentucky for violation of libel law, but was found not-guilty because it didn't exercise editorial control; it was a medium of communication like a phone company. This precedent allowed other internet forums to gain steam and deliver racier content, but also increased the public desire in the CS for software-level parental controls of objectionable content. Compuserve was bought in 1998 by AOL and its very proprietary technologies and standards converted over to standard HTML and x86 from Intel.
Prodigy (1984-2001) was another ISP that allowed internet connectivity, claiming it was first due to its graphical user interface, and also hosted user's web pages. It offered online banking, stock trading, advertising, and shopping online in a time before the WWW was widely used, but could not capitalize on this as effectively as AOL, DN, CS, or other early network providers. Prodigy started out as a flat-rate, and lost subscribers when it went to an hourly rate for a short time. In 2001, it was bought out by a Boston company and now offers high-speed internet in New England, the Canadian Maritimes, and New York, about 77 million people in total.
Early Prodigy service interface
America Online (AOL) began in 1983 as CVC, and offered a service called GameLine for the Atari 2600, allowing users to download games and keep high scores so long as the console was powered on. But in 1985, the service became Quantum Lin, and then in 1989, America Online, providing online service to users through graphically presented 'channels.' Its user base grew to 10 million by 1995, and offered file sharing, chat, message boards, image sharing, and online gaming. It partnered with a number of US-based education associations, leading southern users to look for another alternative, despite wanting to communicate with friends and family in the US, as they wanted a more local company that catered to their interests. By 2004, AOL began transitioning to use of a web portal, keeping afloat by an advertising model, and merged with Time Communications.
Dixie Online (Dixie Net) - In Nashville, an early time-share hosting company began offering internet connectivity to college students between the University of Nashville and the University of the South between 1979 and 1981, and this proved so popular it expanded to other universities, and by 1984, the wider public. It offered to host user web pages, provided there was no nudity, cursing, violence, or illegal content, and provided e-mail between users, message boards, and some cultivated content. It started as 'Dixie Online' but changed to DixieNet when it became purely an ISP with just a web page portal in the early 2000s. Users fondly remember the logo, a battle flag with stars that would light up in sequence as the modem dialed and connected; others prefer the stars swirling into the frame as the cross faded into view. Similar to AOL, DO/DN provided early distance communication for $13.95 (CS) / $19.95 (US), and was similarly considered not responsible for content on its platform where it didn't exercise editorial control, providing some legal protection for it.
PineNet - an early New England-based ISP lasting from 1986-1999, fell apart in the dot-com bubble in the US due to insider trading and lying to the SEC.
Peach Net - beginning from Georgia Institute of Technology graduates in 1987, this early ISP used a stylized peach logo, as its founder's family were peach farmers near Montezuma. This ISP became more popular as a result of the spread of web browsers and web portals in the mid-1990s, and is still around today, with most of its customer-base in Georgia, Florida, South and North Carolina, Alabama, and Tennessee.
Vroom - a Virginia-based ISP starting in 1986, Vroom (so named for 'V'-irginia and online chat rooms) offered chat in message boards rather than live chat, but was often one of the fastest providers due to its use of caching, giving the appearance of faster load times. It was most popular in Virginia, North Carolina, West Virginia, Maryland, Delaware, DC, and Kentucky.
BajaNet - west-coast based ISP in Tijuana, California, starting in 1988, this never provided content but offered e-mail and web browsing. It was always slower than others, but consistently reliable, becoming faster in the mid to late 90s.
Confed-e-Net - using a play on words, this network provider began in 1991 and merged into TexNet, formerly based in Memphis, now out of Dallas.
TexNet - Houston, now Dallas-based ISP starting in 1985 with a web portal, rather than proprietary software, using the CompuServe GIF format to provide a bright and eye-catching interface for its users. This network is completely independent of all other networks with redundant servers in Houston, San Antonio, El Paso, and Austin, making it one of the most reliable. This ISP has the most customers in Texas, Oklahoma, Louisiana, Arkansas, Rio Grande, Washington, and New Mexico, and provides German-language customer service with native Texas German speakers.
Louisiana Web - despite its lack of a catchy name, this company serves the French-speaking population of the Confederacy with native Louisiana-French speakers
TexanerNet - this small ISP is staffed with Texas Germans.
Video Games


Atari Video Computer System

In the 1970s, Adam Piscatello, Thomas Jones, Andy Wilbanks, and Tom and Andy's girlfriends Rachel and Ines Cudna created a company in Phoenix, AZ, based on the initials of their names, ATARI, with Rachel creating a logo for their company that looked like a stylized A. With expertise coming from the University of Nashville, University of the South, and Georgia Institute of Technology, there was a large amount of knowledge, and a lot of interest in sci-fi, leading the friends to want to try to create a computer game with sci-fi elements.
They created a game called
Computer Space
, in 1971, with a futuristic-looking computer cabinet. It sold well enough that the company could try their hand at another game, selling about 2300 cabinets between the US and the CS.
The Tennessee-based company Magnavox released their Odyssey home console, having moved there from Napa, California to find a better business environment.
The Odyssey was primitive by today's standards, displaying 3 dots and a vertical line, with two controllers and a light gun, and coming with plastic overlays to put on the TV depending on the game played. But it sold 420,000 units in North America, and Atari wanted to create an arcade version of it, coming up with
Pong
.
Atari used the effort to clone the Odyssey as a test case to learn how to create new games, and the effort, largely by Andy and debugged by Rachel, was so good they released it to the arcades. Soon they created a home version of Pong through Sears, an American company with a large number of stores in the Confederacy as well, called
Home Pong
.
Magnavox sued for infringement on their Odyssey, but the two companies settled out of court rather than continue the fight. Atari wanted to release a new home system, and thought about creating something with removable ROM cartridges to allow users to play more than one game, rather than program all the games into the system itself, but a New York company, Fairchild, came up with their Channel F system, beating Atari to the punch with the first ROM cartridge home system. It had a resolution of 128 × 64, and 8 colors. It had 120 Hz, 500 Hz and 1 kHz beeps for audio, 2 KB of RAM, including 64 bytes of 'scratchpad' memory, with an 8-bit processor running at 1.7897725 MHz. It was very simple, but Atari knew it needed to step up their gaming game.
The VCS was released in 1977 and was a huge success with one of its games, Space Invaders, being a rather impressive arcade port, despite not having much color for the then-common color televisions. The VCS used the 6502, rather than the cheaper 6507, as the company felt it would help make better games with more address pins, allowing more memory to be addressed from games. With the 6502 allowing up to 8KB in games, Atari did end up making much better arcade ports than it would have if it had used the 6507 to 'cheap out' on the system design. It ran at 1.19 MHz, with a resolution of 192 x 160 pixels, 512 bytes of scratch RAM, and up to 128 colors, though only 8 on any line, and 2 channels of 1-bit sound, with up to 4 sprites on a line, 2 colors a sprite, and a read/write connect was left connected in case higher memory became available later, allowing much, much larger games than the tiny 2k and 4k ROMs available in 1977. By default, the Atari 2600 could address 64K of memory at once. Despite hardware limitations, and being challenging to program, the 2600 had the ability to alter settings mid-line so you could change sprite colors as it is drawn, and sharing a sprite between several objects, or draw software sprites. Pitfall was a famous example with the logs being duplicated, the vine being a 'ball' sprite shifted on each scanline. Adventure and other games used these tricks to make mazes for the system also. The background was often mirrored left/right to save memory due to the expense of memory chips at this point in time.
One other game, Asteroids, was developed for the system to show off the color graphics over the Fairchild Channel F:
Four of Atari's programmers left the company and formed Activision, which began developing cartridges for the system. Atari attempted to sue to stop them, but lost in court, allowing third-party carts to flourish for the system, making it even more popular. So Atari simply upped their efforts to make great games for the system.
Despite the new Atari VCS, the Channel F tried to compete, coming up with its own version of the popular arcade game
Pac-Man
in 1982, but even this was unable to compete with the Atari version of the game in the same year, as it had 4K of memory, and the Channel F stopped production in 1983.
Another game for the Atari 2600 was Donkey Kong, a Nintendo game that included almost all of the arcade details except the jumpers in one stage, as they ran out of memory in the cartridge.
Atari's 2600 was the most popular system of the first generation of video games in the 1980s, but it didn't control the quality of games released, and games like E.T. and other low-quality games resulted in a loss of confidence and a drop in sales, nearly bankrupting Atari, the home-grown Confederate company. Unlicensed games in the USA, notably Custer's Revenge, prompted parental outrage in the south and a ban on the game itself.
With bank switching, the Atari 2600 could address up to 512KB of ROM and 32KB of RAM. But Atari would instead create the 1982 Atari 5200 system to compete with the Colecovision, releasing it in late 1982/early 1983. This new 5200 was also released with a lower-price version of the VCS, now called the Atari 2600. This new system had 256 colors, 8 sprites per scanline at 3 colors each, 16KB RAM, with cartridges allowing another 16KB within the cartridge using a faster 1.79 MHz 6502C processor that had the read/write line as before, and with bank switching, up to 512KB games. By default it had a resolution of 256×192 with 256 colors, or 320×192 at 16 color, or with expanded RAM, 128 colors. To the well informed, the 5200 was a slightly modified Atari 800 computer, and compatible with all the computer's cartridges. Coupled with a keyboard that fit into the joystick port, the game console could be used as a personal computer as well.
To encourage people to upgrade to the new console, the original was redesigned and dropped to $99, the new one sold at $199, and had backwards compatibility with the now 2600 system so that you could bring all your games with you to the 5200. All the games worked, but new games did not work on the old system, and it was compatible with cartridges already out for the 8-bit Atari computer, meaning it already had a large library of games you could just plug in to your TV. Newer games like
Journey into Fantasy
, an early RPG with 4 players,
Super Pac-Man
, with 4 Pac-Men on screen at once,
Monkey Business
, a Donkey Kong-like game trying to save your gorilla dad from a hunter, with up to 4 players on a static screen, showed off the abilities of having 4 people play at once. Other games like Wheel of Fortune, Jeopardy, Life, Monopoly, Chess, and Checkers all came out, showing the enhanced abilities of the system in comparison to its competition. By 1984, the Atari 2600 stopped being produced, though some companies still made games for it, while the 5200 took over as the sole game system from Atari in the US, CS, Canada, and the rest of the world.
Pac-Man for the 5200
Popeye on the 5200Zaxxon for the 5200Tempest on the 5200

The 5200 was certainly successful, though not as successful as the 2600, which sold 36 million units, while the 5200 sold 11 million units. The Colecovision sold 4.2 million and the Intellivision sold 2.92 million units.
Colecovision
The Connecticut Leather Company had already been producing several 'pong on a chip' consoles to connect to televisions, and released a Telstar system where the game was integrated into the console, rather than individual cartridges like the Channel F and the Atari VCS. Despite this, it was an American company and sold several hundred thousand units, but eventually failed to compete with the VCS.
US-based Telstar
Coleco exited the market in 1980 when gamers wanted more than just Pong clones, and developed its ColecoVision, releasing it in 1981, a year earlier than it thought it could.
Uniquely, the ColecoVision used the 3.58MHz Zilog Z80 processor, a North California-based company, and included 1KB of scratchpad RAM, 16KB of video RAM,
256×192 resolution, and a unique controller mixing phone pad and joystick. With more updated hardware, the Colecovision definitely released better games, but ran into trouble with its 2600 cartridge adapter, for which Atari sued them. Atari lost in the US courts, as its system had no custom parts in it, so the two companies simply put Coleco under license, paying Atari for each adapter sold. After the 5200 was introduced with backward compatibility, Coleco limped along until 1985, exiting the video game market, having made 185 games for their system. One of its unique expansion modules was the ADAM, turning the system into a home computer.
Intellivision
Another west-coast company, Mattel, released the Intellivision system in 1980 in competition with the Atari VCS. It had a 894.886 kHz General Instrument CP1610
processor, 160x96 pixels and 16 colors, Main RAM of 524 bytes
and Video RAM of 932 bytes. It could have up to 8 sprites on screen though, in comparison to Atari's 2 (and a ball sprite and a missile sprite), so it had much less flickering than the simpler VCS, and had 3 channel mono audio and a noise generator.
Soon, Mattel created the Intellivision 2, a smaller and cheaper version of the original, without any internal changes.
There were strong rumors of an Intellivision 3, with a 3.56 MHz processor, 4096 colors, tiled graphics, and 4KB of RAM, but the video game slump convinced Mattel to bow out of video games.
Odyssey
2
Magnavox released the Odyssey2 in 1978 with hard-wired controllers, cartridge input, and a built-in keyboard. It had specs similar to the VCS but had a speech synthesis unit for voice, music, and sound enhancement. Some games, like
Quest for the Rings!
came with a keyboard overlay for more functions in-game, and this came came with a board game to 'enhance' the gameplay on screen.
This first generation of gaming systems came to an end in 1984 with the 2600's retirement, with everyone but Atari leaving the field, and Atari debating whether to continue as well, until they got an offer the couldn't refuse. Nintendo wanted to take their Famicom to America, but Atari was doing great in computers at the time, and was not completely convinced of the Japanese system till they got two systems and the Super Mario Bros game in-hand to see if they wanted to bring it over in partnership with Nintendo. They were blown away by the graphics and sound on the system, which was more than their 5200 and their currently planned 7800 systems could handle. Neither Atari system was tile-based like the Famicom was. The entire 7800 project was put on hold, and the release date in 1984 was pushed back to re-engineer the entire system.
Nintendo Entertainment System

Nintendo redesigned its console for the US to something resembling the VCR to distance itself from the then-crashed prior generation of game consoles, and released new games based on its established properties, with Super Mario Bros as a pack-in, which went on to sell over 40 million copies of the software. In late 1985, the Nintendo Entertainment System was released and despite the crash 2 years prior, was a huge success with advertisements and made inroads in computing with the Advanced Video System version that doubled as a home computer.
Nintendo wanted to avoid the issues that caused the game market crash, so they represented the graphics truthfully in advertisements and artwork, and put a 'seal of quality' on their games, and also censored profanity, sexual, religious, and political content. Games like Maniac Mansion were very watered down.
But Nintendo had a winning formula and its system was a huge success. Its release was $179 for the system, two controllers, light zapper, and Mario/Duck Hunt combination cartridge,
Key Games:
1985: Super Mario Bros
1986: Castlevania, Metroid, Legend of Zelda, Gradius
1987: Megaman, Castlevania 2, Contra, Zelda 2: Adventure of Link, Final Fantasy
1988: Megaman 2, Super Contra, Super Mario Bros 2
1989: Castlevania 3
1990: Super Mario Bros 3
Atari 7800

Atari's new 7800 system was released exactly one month after the Nintendo Entertainment System with a similar controller, but placing the pause buttons on the console itself, and also had a joystick add-on for a more arcade feel. It included complete backwards compatibility with the 2600 library, automatically placing it ahead of the NES in games. Atari's system had a custom 6502C at 1.79MHz, 4KB RAM, 320x240 resolution, 256 colors with 25 on screen, 100 12-color sprites with 30 per scanline without background, smooth horizontal, vertical, and diagonal scrolling, and four square wave channels, noise generator, a triangle wave generator, DPCM channel, and a sine wave generator.
The system had more impressive specs than the NES, but it needed the games. Luckily its library included the rights to Nintendo's arcade games, so Donkey Kong and Mario Bros were released on the 7800, along with revamped versions of Pac-Man, Pole Position, Space Invaders, Ms. Pac-Man, Joust, Defender, Galaga, Phoenix, Tank, Galaxian, and a few more for the 1986 release. Having such a large library of games was important (a reason the XE cartridges were designed to work with the 7800, and profit on ROM carts split evenly between the two divisions), and many fans across North America and Europe were ecstatic to see Atari back, but the NES had many more games for it, and tried to lock Atari out by signing exclusivity contracts with the companies so their games couldn't go to the Master System or the 7800, but Atari and SEGA sued Nintendo in the Confederate States and United States over their contracting, and by this time, Activision and Konami joined suit. Atari and SEGA won the suit, and Nintendo's exclusivity was ended; companies could release games for any system, and their contracts could only create up to a one-month exclusivity for any one console in the CS, and up to 3 months in the US. The Maniac Mansion game was released uncensored for the 7800 and Master System, spurring a game rating system to be introduced in the CSA in 1988.
Key Games:
1986 - Pac-Man, Donkey Kong, Galaga, Galaxian, Phoenix, Mario Bros, Pitfall 3, Star Trek: Klingon Invasion!
1987 - Joust, Centipede, Defender, Dig Dug, Galaga, Transformers*, He-Man, Space Invaders, Power Rangers: Star Force!, Robotron, Battlezone
1988 - Centurions, GI Joe, Ghostbusters, Pole Position 2, She-Ra, Thunder Road (racing game), Pitfall 4: Pitfall Harry's Rescue
1989 - Maniac Mansion, Megaman*, Castlevania, Galaxy Quest**, Legend of the Crystal Sword***, Final Fantasy
1990 - Transformers 2, Galaxy Quest 2, Final Fantasy 2 (the Japanese FF2 was ported over for the 7800)
Pitfall 3 looked even better than equivalent side-scrollers on the NES, and even included upgraded Pitfall and Pitfall 2 games as bonus levels within the game, with smooth-scrolling and simple parallax backgrounds. Star Trek: Klingon Invasion was a partly ship-based combat simulator like the old Atari game, and a partly planet-based isometric puzzle game, as Star Trek was not a franchise for 'run and gun' games. Power Rangers: Star Force was a very typical side-scroller on the 7800, with 5 rangers to choose from (really 2 with palette swaps and different weapons), and 8 levels featuring minion enemies, and the end of the levels featuring a monster, and once defeated, you get taken to a megazord fight scene. Centurions featured Ace, Jake, and Max with 3 weapon systems each, a lot for the time, fighting against the land and air droid from Doc Terror in a map-based side-scroller, with cut scenes featuring Crystal sending info on the next mission. Each level let you change Centurions, or work alternating with a friend, collecting energy-generator fragments recaptured from Doc Terror.
*Transformers had the player control Optimus Prime, Jazz, Ironhide, or Prowl through ten levels defeating the Decepticons and rescuing humans and recovering various power devices before facing against Megatron, who transformed into a tank. Prime had his blaster and could call on his trailer for help if he collected enough 'ark fragments' to do so. Transforming was done with the select button on the 'pro controller' (placing pause and select on the gamepad itself), and defeating enemies allowed you to collect energon to power you and your weapon.
*Megaman on 7800 featured all 8 original bosses, including Oil Man and Time Man
**Galaxy Quest was a metroid-like game featuring 2 separate bounty hunters (male or female) in power armor attempting to hunt down a lost treasure on planet Zenox III; the sequel was already well into development when the first was released, where the hunters, employed by the Galaxy Alliance, were tasked with rescuing a stranded passenger ship from planet Rogath, which had been infested with the same aliens from the first, resulting in a mutation of life on the planet, creating new monsters to face.
***Similar to Legend of Zelda, but also Lord of the Rings, LotCS had a human awaken via telepathic message from the princess, asking to rescue her. The hero awakens in Korino Village and must travel the countryside to eliminate the various dungeons of villains before he can gain enough strength to defeat the wizard Vorath. Uniquely, this game allowed the player to gather various elemental crystals for their Legend Sword to allow charged up fire, wind, water, and ice attacks.
-The Power Rangers Star Force game was unique for the time in having a black male lead character as the red ranger. You could pick any ranger, with the males palette swaps with different weapons, and the females likewise palette swaps with different weapons. You defeated the bad guys through three levels and defeated a monster of the week at the end of the fourth; when he was beaten, you got to fight him again in your megazord.
-Pitfall 4 introduces Pitfall Harry's daughter, Lara, who has to rescue him from a mystery group of artifact thieves who kidnapped him to force him to divulge the location of the Holy Grail.
Megaman 3 on the 7800
So, starting in 1988, both the 7800 and the Master System got ports of a number of 3rd party games from the NES to their systems, showing off more colors and better audio than the 1983-based system from Nintendo. Atari got Megaman first, now with Time Man and Oil Man restored, who were cut from the original NES version, followed by the Master System version a month later. Commando, Pole Position 2, Ghosts N Goblins, Bionic Commando, Quest for the Rings, Lord of the Rings, Legend of the Sword (a game very similar to the Legend of Zelda), and dozens of other games were released for the 7800 and Master System, though the NES still had its primary franchises like Mario, Metroid, Zelda, Kid Icarus, and new Donkey Kong games to draw in new sales.
The 7800 got plenty of games and plenty of pop-culture games, but it didn't have much in the way of a franchise like Mario, Zelda, or Metroid to help drive sales. Galaxy Quest, Thunder Road, and Legend of the Crystal Sword were great for their time, though.
Through this so-called 'third generation' of video game systems, Atari's 7800 would be a second-place finisher, closely followed by SEGA's Master System. NES managed 35 million sales, the 7800 got a respectable 18 million, and the Master System 9 million.
A unique peripheral was the dual joystick controller for Robotron, Battlezone, Gundam Zone, Mechwarrior, Macross, Robotech, and Battletech. The 7800 gained a reputation for 'mech' games, making it very popular amongst 'nerds' and 'geeks,' though those same people had the money to burn on the peripherals and system, helping the 7800 gain a devoted following.
Atari sold an XEGS starting in 1989, which was a redesigned 7800 with a keyboard, mouse, and four ports, 64KB RAM, and was compatible with all Atari XE computer cartridges. As a home computer, the XEGS sold around 1.2 million units around the English and German-speaking world. The XEGS without computer components, sold about 1.8 million as a redesigned 7800 with more RAM and 4 controller ports. When used as a computer, it ran Atari TOS, the graphical interface over MS-DOS (or MC-DOS in the US), provided you ran it without a game cartridge in it, and connected to a monitor; if it connected to a TV, it would boot into Missile Command, the game.
Books
The Handmaid's Tale
- A dystopian novel written by Atlanta author Julia Thorn in 1983 who spent time in New England and New York one summer and was inspired to write this novel, which became an underground best-seller. The plot involves a future United States where its President and much of Congress were killed in what the main character discovers was a false flag by its intelligence agency, the Federal Intelligence Bureau, used to bring about the unitary state as it then existed, into a Social Democratic one-party state, outlawing all other political parties. The new regime consolidates its power, centralizing authority in the national government, now moved to Philadelphia, with major mega-cities at Detroit, Chicago, New York, Boston, Sacramento, and Portland, and outlaws all Christian religions as dangerous extremist movements, and adopts a militant hierarchical model of society with one's social credit score determining their freedoms in society, determined by how well they parrot the government ideology. Due to pollution, radiation, contaminated food (all of which is genetically modified), and mandatory vaccines, cancers have skyrocketed and most men and women cannot have children, and the few women who are found to be able to have children are required to cede control of their bodies to the government to carry the babies of the rich. The rights of the vast majority of the population are forced either into slave-wage factory work for the rich, or agricultural work where they get sick off the pesticides. The rich get clean organic food and air purifiers, while the poor cannot afford it. Alicia Holmes is one of the faces of the regime, arguing in favor of vaccines, telling people that their immune systems can't handle illnesses, and urging everyone to get every single vaccine with every six-month booster shot for the 'variants.' Bryan Arthur leads the regime, brutally repressing all dissent.
The author was inspired when she heard of Senator Kennedy writing to Moscow that they just had to wait Reagan out, which she viewed as treasonous behavior, and hearing of the Iran-Contra and the USS Liberty event in the Mediterranean. It continued a theme of southern books about centralized power, though in the north, an underground of books telling lurid tales of bad treatment of blacks in the south sprang up, positioning the north as the virtuous party in the Confederate Revolution, and that even though the south freed their slaves before the north via their first amendment, blacks weren't really free like the north for decades afterwards.
The Other Side
- A man from Ohio creates a formula to attempt to cause cellular regrowth, using placental cells to stimulate growth. It has the unintended side effect, when testing on himself after a lab accident, of turning him into a woman. The lurid book became a secret best seller that no one admitted to reading, as there were a number of scenes of the man turned woman engaging with the now opposite gender, and learning how life worked from the opposite side. Written pseudonymously by Olivia Wolf of Columbus, it did influence a number of movies and TV show plots, introducing 'gender bender' plots to show the men in those stories how life was for women, usually learning some moral lesson in the end.
Bridge of Spies
- Confederate book about an insurance salesman from Richmond who is tasked with going to Germany on behalf of the US to act as a neutral party to try to rescue a downed American pilot in the 1960s, based on a true incident, where he was exchanged for a Russian spy at a bridge between East and West Warsaw. The salesman was also shown driving between Germany and East Poland at East Prussia, which also happened when he arrived in Europe. The movie version was well received in 2012. A similar incident between Gehsen (East Prussia, Germany) and Wincenta (East Poland) occurred around the same time and was also the subject of a novel and TV movie.
Time Agent
- A human was abducted and taught by aliens and given powers and technology to stop Earth from destroying itself with nuclear weapons and other catastrophes. There's very little time travel, but there is a 'time viewer' amongst his 'spy gadgets' to let him see possible outcomes and past events to try to solve mysteries. It gets made into a TV series by Universal in 1987 and runs for 5 seasons.
Agenda 2020
- In the far future, a worse fate than Orwell's 1984 awaits the human race. Everyone is chipped, using the device implanted within their hands to enter buildings, start their cars, buy and sell at point-of-sale or on computers in the home. Everyone is required to get vaccinated, with constant fear being promoted on five hundred channels about new killer diseases that overwhelm the human immune system. Food is lab-created, and all cars are electric, charged by solar panels or wind turbines. Everyone lives in cities and emotional outbursts are controlled with drugs, adult entertainment, and alcohol. Everyone hears about the dangers of overpopulation and how humans are evil, with global warming, cooling, or warming destroying the environment. All information is online, with books being relegated to dustbins, and the information is constantly scrubbed to avoid offensive content (offensive to the party). There is only one political party in power, regardless of the election, as the other party just can't seem to win any elections, and states have been stripped of all power, and the US, CS, and Canada have merged together into one 76-state super-nation that also includes St Martin, Guyana, and Suriname somehow. Roger Wilson goes through a shock when his car runs out of power on a cloudy day and he discovers some rural people living in what appears to be an idyllic life. They give him shelter while he waits for the clouds to pass, which requires several days. Roger sees how life was centuries ago, but he realizes it was only a few decades ago; the Earth's population was topping 6 billion, not the current 500 million, books used to be everywhere, and elections used to be over by midnight on election day. As he learns who these rural people are, with Jessie Mae serving as the foil to Roger, he discovers the difficulty concentrating is due to all the foods he eats and the electric lines all around him. Without that, and having eaten natural, clean food and water, his brain fog lifts, and using aloe and other natural remedies, he finds his ailments receding. After a few days, he seems to have 'gone native,' and the search team finds him by his powered down car. They take him, and he resists, seeing Jessie Mae in the distance, a tear falling down her cheek. The last chapter shows Roger brainwashed, now a part of the search team, trying to locate Jessie Mae and her family to turn them in for reeducation.
Television
Knight Rider
- (1982-1987, 5 seasons) - a talking car and its driver, Michael Knight drive through North America and solve problems, often caused by people who came in from outside of the Confederacy. The show's central theme of "one man can make a difference" shows up throughout the series, and often involves Michael having a 'love interest of the week' show up each episode, and a new mechanic each season (Bonnie, April, Julia, Autumn, and Winter) to fix KITT.
He-Man
(1983, 7 seasons) - starting with a barbarian theme and mixing in some technology, this cartoon became huge in the south, featuring Prince Adam transforming into the super-strong He-Man. Later it introduced He-Man riding on a dinosaur, capitalizing on the popularity of those animals during the 1980s.
She-Ra
(1985, 5 season) - the sister series, featuring He-Man's sister, expanding the franchise for girls
JEM (1985-1987) - a US-based music series featuring a fictional band and short songs each episode, with a woman, Jerrica, who has a secret identity as JEM, solving problems along the way and having relatable relationship issues.
Voltron
(Lion Force, 1984) - a team of 5 space explorers find the five lions of Voltron and defeat the alien army led by Lotor from destroying the planet Arus. Its popularity was boosted by kids already used to Power Ranger mechas. Adapted from Beast King GoLion.
Vehicle Force Voltron
(1985) - adapted from Armored Fleet Dairugger XV, and unrelated to Beast King GoLion, this aired as a sequel to the original series, though not quite as popular, it was a close second.
Gladiator Voltron
(1986) - adapted from Lightspeed Electroid Albegas, this was the third Voltron series, and was not as popular as either of the previous seasons. It was not helped by the Voltron NES game reviving interest in the Lion Team.
Power Rangers
(1982-present) - utilizing footage from the Japanese series Denshi Sentai Denjiman, this long-running Confederate children's show greatly popularized martial arts in the South, and also spurred the CS Marines to develop their own martial arts style. Each series is in a larger universe, adapting the prior year's Sentai series utilizing the Japanese suit and mecha footage, while mixing in new, CS-shot footage featuring English-speaking actors in a high school setting. The third season,
Power Rangers: Star Force
featured a black red ranger, the first for the series. The person who brought it over, Robert Johnson, with his friend Chad Dorsett, changed a few concepts and called the mecha 'zords' (influenced by the recently released robotic Zoids).
Masked Rider
(1989-present) - using footage from Kamen Rider Black, this series follows a lone high school student who moves to a new school and discovers the Rider Gem from Edenoi, which grants him the Masked Rider Armor and turns his motorcycle into his Masked Rider cycle. He saves the town from enemies and tries to keep his identity secret, with the series motto of 'one man can make a difference,' while Power Rangers involves teamwork. There is a crossover between the two that's so well received it becomes an annual event. Once the first series ended, the producers used some older Kamen Rider footage to create new Masked Rider series once Kamen Rider Black RX footage ran out.
Transformers
(1984-1989) - mecha series combining Diaclone and Microman toys into a completely new mythos, featuring the noble Optimus Prime leading the Autobots, having fewer resources and a culture of freedom and charity, against the evil Decepticons, who want to take over the universe and steal all energy and wealth for themselves, obvious parallels to the CS/US (Autobot/Decepticon) cultural stereotypes. Each series introduced new characters, mostly to sell new toys, with every character getting at least 3 episodes of focus, including deluxe insecticons, deluxe vehicles, and even showed the combiner teams combining in new combinations and with each other for new powers and fights, encouraging kids to collect them all. While Robotech had been licensed in the US, it wasn't in the CS, and the producers had license for the Robotech mecha as 'Skyfire,' which culminated in the epic sky battle in the Transformers movie between the Decepticon Seekers and the Autobot Sky Squadron and aerialbots, leading to Skyfire's squadron of fighters destroying most of the seekers. The third season took place in the future of 2005 with futuristic figures, and a 'coming of age' story of Hot Rod growing in his role as Rodimus Prime, becoming a great figure for kids to inspire them to 'man up' and take initiative against real world challenges, and to live up to the legacy of their own heroes. The fourth season was "Headmasters," featuring headmasters and targetmasters; fifth season was "Masterforce," featuring pretenders and new headmasters and targetmasters, and introducing Powermaster Optimus Prime. The sixth season was "Victory" with Prime and Star Saber fighting against new Decepticons. The last season, knowing the line was dying down, featured re-releases of older toys and a mish-mash of characters from the last six years working to stop Decepticons fighting on Earth and in space. The final season is often considered by fans as a 'best of' or a 'fan service' series, with fights between Pretenders and Combiners, and Headmasters and ArmorMasters (Japanese 'breast force'), original characters and new characters, and with more 'scramble city' combiners changing configurations and mixing parts to give each other new powers.
Quantum Leap (1989-1994) - time travel series with Dr Sam Beckett putting right what once went wrong, helping people in various time periods.
Television runtimes in the 1980s in the Confederacy would be 54 minutes of content every hour with 6 minutes of advertisements, while the US would have 45-48 minutes of content with 13-15 minutes of advertisements.
Income, Tax, and Price Comparison

Annual income in the CS would be roughly $7,574 by 1987, with gold being $130/oz, while the US was $324.1/oz and an average income of $13,383.00. A different comparison is that a Confederate income bought 104.4 t oz of gold, while a US income bought 80.4 t oz of gold, before taxes. The US spent $946.344 billion in 1987, with revenue of $734.037 billion, while the CS spent $54.193 billion on revenues of $57.055 billion, that around $2.862 billion being returned to the states through the Sovereign Wealth Fund.
Unique at this time was a decrease in Confederate purchasing power, and an increase in US purchasing power, despite the fall in value of both currencies relative to gold. Despite that, Confederates had much more take-home pay throughout the 1980s as they had no federal FICA or income tax, a sovereign wealth fund that paid into their retirements from Confederate mineral and resource wealth, and reduced state spending as well.
Prices in the US (1987)
Cost of a new home: $121,021.00
Cost of a new car: $ 14,480
Median Household Income: $13,383.00
Cost of a first-class stamp: $0.22
Cost of a gallon of regular gas: $1.07
Cost of a dozen eggs: $1.07
Cost of a gallon of Milk: $1.98
Cost of a loaf of bread: $1.28
Prices in the CS (1987)
Cost of a new home: $54,200.00
Cost of a new car: $12,656
Median Household Income: $7,574
Cost of a first-class stamp: $0.13
Cost of a gallon of regular gas: $0.62
Cost of a dozen eggs: $0.70
Cost of a gallon of Milk: $1.57
To put another way, when comparing the gold price, 40¢ CS is $1 US, and $2.49 US is $1 CS, the same ratio as in 1977.
NOTE: Changes you may have noticed: Atari is now a Georgia company and released better games. Transformers lasted longer, as did He-Man, among other things.
Election Maps for 1988 (USA), and 1987 (CSA)
Movies
The Empire Strikes Back
(1980) - Set three years after the first movie, the Empire is after the rebellion, which is in dire straits. Two sectors have been captured after having declared secession from the Empire, and one of the most important trade hubs along a galactic trading route, Nova Orlasica, had been captured, and ruled by a corrupt imperial general, named "The Beast." His rule of Orlasica breeds much resentment and is helping galvanize the rebellion against the empire, and his routine treatment of free women as 'pleasure servants' causes his downfall by the movie's end.
Princess Alexia's home planet is suffering under imperial control, its capital of Vilnash under military occupation by General Rewna Sonjo, and she has joined the rebellion on the mountainous ice planet Panottia. The lead from the first movie, Alexander, has a vision from his old master to visit the swamp planet Rodinia to continue his training, and leaves to finish this task.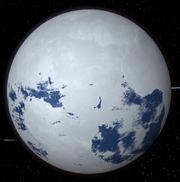 After he leaves the empire comes and attacks the rebel base, forcing their departure and scatter. Alexia goes with Than Loro to see Landick, who runs the sky city of Aria to try to repair his Stellar Hawk ship. Elsewhere, Alexander's star fighter crashes on Rodinia and he finds an old paladin, Gorra. Gorra doubts his commitment, but he confers with Alex's former master, Narven Klarvo; he explains that everyone has a connection to the Force, which binds our spirits together through time and space. The connection is formed by love and maintained through faith, and must be nurtured or it will break. It forms a family that transcends blood ties, and with practice, those skilled in the force can reach out to those who have passed on and ask of their wisdom, as Gorra did. Gorra agrees to train Alexander, and a training montage shows Alexander growing stronger and more muscular, and seeing 'force spirits' of past masters and paladins.
Than Loro, freed from his stasis, encounters Jenna Vro, Vader's right hand woman, and the two have several encounters in the movie with some romantic tension between them, showing Vro is willing to bend the rules a little behind Vader's back.
The emperor's second in command, Darth Vader, sends bounty hunters to find Alexander, and capture his friends on the cloud city; Alexander gains a premonition of this and goes to rescue them over Gorra's objections that he hasn't finished his training. Alexander faces Darth Vader, whom he claims killed his father, but Vader reveals he is Alexander's father, and their laser sword fight continues till Alex's hand is cut off, and Vader tries to make him fight with anger, but Alex refuses, remembering Gorra's training that anger clouds the mind. He tells Vader that love is stronger than hate, and freedom for the galaxy is a true expression of love, and jumps out of a ventilation shaft to the lower antenna, where a telepathic message to Alexia causes her to swing her ship, the Stellar Hawk, to swing around and rescue him from falling to the surface of the planet.
One of the bounty hunters takes Than to the slug Zithra to collect on a bounty, while Alexander and Alexia promise to rescue him. The last scene involves Darth Vader reporting to the emperor who is okay with their escape, as they have a larger death star in construction. Vader leaves, and is joined by Jenna (Dorothy Mays) Vro, clad in tight black, with calf-high boots and leather gloves, the image of a femme fetal. "We will catch them father," she says to him. The revelation of Vader's daughter, and Alexander as his son is one of the biggest plot twists in cinema.
Konja's family, who was killed in the first movie of the series, are mentioned here, as is his one-man war against the empire.
Return of the Knights of the Star
(1983)
Alexander is now a Knight of the Star, and meets up with Konja (based on Jack Hinson), who can sneak him to Zithra's den. He finds Alexia (Cynthia Meyers) captured and a slave of Zithra, in a very revealing bikini outfit. Zithra sentences her to death and she is rescued before being eaten by a sandworm, a giant carnivorous beast of the desert. Alexander returns to Rodinia to complete his training, and finds out Gorra is dying. Once he passes, he communes with Gorra and Narven's force spirits, and confirms that Vader is his father, and that he has a sister, Jenna Vro, who is at his father's side.
Alexander then joins back with his friends and they find a jungle planet Thalassa is housing a shield generator for the new death star. While they go to the station to disable it, Alexander tries to convince his father and sister to leave the dark side, but he fails. In his quarters on the station where his father tried to impress him, his sister visits him, and joins to his mind as her father taught her to do. She sees images of Alex's foster parents, his friends, and sees the real love he's felt in life, which she has not, and feels his desire for freedom in the galaxy. Her icy confidence is shaken, and she leaves quickly.
The Emperor attempts to seduce Alexander under the pretense of reuniting his family under the empire, and reveals his station's laser is operational. He moves a barge with 3000 wounded soldiers and 5000 women and children, and shoots it, hoping to incite Alexander to anger. Alexander attempts to attack, but Vader intervenes, and Alexander severs his own father's prosthetic hand, while Vro looks on. The Emperor (Maharkin Bralin) then had his sister in a chokehold by her neck, hoping to turn him to the empire, when Vader attack him while distracted, picks him up and throws him into the power core, but is critically injured in the process. Both Vro and Alexander take his helmet off, and he asks their forgiveness, and they both reunite with him as a family. The betrayal by the Emperor whom she served and Alexander's efforts to save her finally pushed through her indoctrination and they finally embraced as brother and sister.
Than Loro and Alexia lead a last ditch pincher attack on the death star, leading to a core implosion, destroying it and with it, the empire. On the jungle planet, Alexander and his sister Jenna, now reunited, burn their father's body on a pyre, in the tradition of the Knights of the Star, and the movie ends with scenes of the empire's hold on various planets collapsing and retreating.
Star Trek 2: Web of the Romulans
(1980) - following on the action packed first movie, the new Enterprise with new uniforms (the familiar red of the movies) must investigate a planet along the neutral zone where Romulans have been sighted. In what becomes a spy movie, the Enterprise crew unravels a web of intrigue on the planet where the Romulans are attempting to maneuver the planet into the Romulan Empire by false flag to give them justification to attack and annex the planet for its rich resources. The movie features several new ships, including the V-4 (see FASA's ship recognition manuals), V-7, and V-9 Bird of Prey (updated version of the one seen in TOS), and the nimble S-11 Bird of Prey scout, seen again in ST4. Starfleet shows off a shuttle carrier ship and two other new ships, and the movie also shows off a shuttle fighter sequence that resembles those seen in the US series Battlestar Galactica and in Star Wars.
Star Trek 3: Wrath of Khan
(1982) - Khan returns from exile on Ceti Alpha V when the Reliant is looking for a planet for terraforming via the Genesis device. Kirk is back at Starfleet and training cadets, and uses the incident to take the Enterprise to investigate. The ship is damaged, and they have to discover what Khan's game is. They lead him into the Mutara nebula where the damage to the Enterprise will be matched by the Reliant, and they manage to critically damage the ship, but not before he activates the Genesis device. The warp drive is offline, and Spock sacrifices himself to get it back, saving the ship. The funeral scene left no dry eyes at the premier, but the ending on Genesis left hope Spock might return. Kirk's encounter with Carol, David, and Jamie (Dorothy Stratten) gave him the family he never thought he had; Carol wanted them out of his life hopping stars; David is more like Carol, while Jamie is much more like her father.
Star Trek 4: The Search for Spock
(1984) - Kirk returns to Earth on the Enterprise, and finds that several of his crew are going to be reassigned to other vessels; Sulu is going to be first officer on the Excelsior, and Scotty is going to be captain of engineering there. McCoy has a medical episode, speaking like Spock, asking Kirk to bring him to Mt. Selaya, and is hospitalized. Sarek asks Kirk to bring his son to Vulcan. Kirk thinks there might be a chance, but Starfleet denies his request. His daughter critically distracts spacedock officers, allowing her father to steal the Enterprise to get Spock. Scotty sabotaged Excelsior from following them. A Klingon captain has gone rogue and has stolen a Romulan scout, and destroys the Grissom, a science vessel over Genesis, while Saavik and David are the only survivors. David saves Spock and Saavik, but is killed by a Klingon on the planet, while Kirk is over the planet trying to get in touch. The Enterprise automation is damaged in an attack by the Klingons, and Kirk agrees to surrender the ship to them, but sets it to self destruct after Kruge beams over almost all his crew but one. On the planet, Kirk kills the remaining Klingons, but fights Kruge bare handed while the planet destroys itself. He manages to save Spock and bring him back to Vulcan; he tells his daughter her brother is dead, and there is a touching scene where they reconcile. Spock is resurrected on Vulcan and the movie ends.
Rambo
(series; US movies) - a Vietnam veteran runs up against a sheriff who bans him from town based on his scruffy hair, when all he wants is a hot meal and to find his buddy from the service. He finds he died of Agent Orange, and the sheriff arrests him, but the harassment from his deputies triggers flashbacks and causes Rambo to break out and accidentally kill a cop who shot at him first. The movie ends when he is taken into custody with the help of his old Colonel, but the message of the movie is clear - it's an indictment of the poor treatment of veterans who were only trying to serve their country with honor.
He-Man
- a live-action movie based on the cartoon, with Dolph Lundgren in the lead role. It details the first attack of Skeletor on Eternia and Prince Adam's first journey to the Castle Grayskull, and his transformation into He-Man. It was very faithful to the original cartoon and managed a sequel and a spin-off, She-Ra, with Bridgette Nielson in the lead role.
She-Ra
- a live-action movie telling of Princess Adora's origins as one of the Horde's enforcers, and the discovery of her true origins as a Princess of Eternia when her brother, Prince Adam, journeys to her realm to give her the Sword of Protection, and helps break her out of the lifetime of lies of the Horde. She joins the rebellion and fights against Hordak, the evil ruler of the planet she is on, and with the help of He-Man, begins to turn the tide against them.
GI Joe
(US) - a live action version of the cartoon with most of the main cast fighting against Cobra. A very 80's action movie, but with more depth than most, and very patriotic, standing for truth, justice, and freedom.
Commando (US), Predator (US), Explorers (US), Flight of the Navigator (US), Pee-Wee's Big Adventure (US) are also made during this time.
Comics in North America

Paragon Comics continues its history of international heroes and teams with new heroes expanding their mythos.
Teams:
-Mystic Knights (UK) - Union Jack (new Union Jack, empowered by the gems of Britain as the champion of the islands together), Spitfire, Siobhan (shapeshifting fairy rescued by Union Jack), Banshee (female with sonic scream), Aegil (a hero of super strength, looking for Alrune, his wife, who was also reborn).
-Champions
-Defenders
-Galaxy Force - a league of intergalactic lawmen, taking the name of their solar system of operation, like Galaxy Sol, Galaxy Centaurus, etc.
The golden age hero 'Scarlet Spider' is resurrected, this time with organic webs and spider powers rather than using nets and grappling hooks. A female version, Black Widow, is created initially to stop him, but she refuses to kill him and later becomes a hero with spider powers, including a venom sting.
Space Exploration

In conjunction with Japan, the US, UK, and Germany, the Confederate States establish an actual lunar base in 1989. Lunar modules have been launched from Earth based on a common connector port between the various countries. Japan provided much of the computer technology and helped bring oxygen/nitrogen canisters for breathing to the moon. Germany constructed solar panels and batteries, the US provided rovers, and the CS provided the rockets and astronaut suits, and each country helped build the habitat modules.
After several years, earlier modules were updated and upgraded with larger modules that were built in orbit and landed on the moon. It had higher gravity than in Earth orbit, and astronauts were able to conduct dozens of valuable scientific experiments that drones and rovers couldn't handle alone, including investigations about the age of the moon. Early crews were 4 persons, begun in 1991, but by 1995, 10 astronauts could live on the moon, spending 2 month tours on the satellite, and gaining valuable information about long-term off-world health effects on the human body. By 2000, the moon base had doubled in size and gained a hydroponics area to help provide oxygen and recycle air, and experiment with providing fresh vegetables and fruit for the astronauts. Windows were added to the newer modules so that astronauts could look out to the lunar landscape and even gain views of Earth from the base. By 2010, solar panels were expanded to gather more solar light to recharge the batteries of the base, making the most of the long exposure to the sun on the moon.